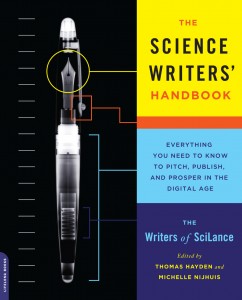 Over the last few months, I've been spending the bulk of my blog-related time on a new project: the website for The Science Writers' Handbook. The book, which will publish in April, is a collaboration involving more than 30 science writers. I contributed one chapter to the book about "The Diversity of Science Writing." I write about the many gigs that science writers can take on to build a sustainable business. I'm also the editor in chief and project manager for this new website. So over the last several months, I've been working with a web designer to build that site and working with a small group of colleagues (Hannah Hoag, Stephen Ornes and Monya Baker) to edit that site.
We're live now, and we've been posting throughout January, so there's plenty to explore. We're covering the craft, commerce and community of the profession. Already you can get expert tips on interviewing for audio and video, learn about how to handle loneliness when working in an exotic location, and learn how to network at conference cocktail parties. We provide a peek into our writing workspaces and even confess to how a certain corporate caffeinator fuels our work.
So if you've wondered what happened to Webb of Science, I'm still here, and I'll be back here soon. In the meantime, I hope you'll take a peek around the new site.
I'll be at ScienceOnline 2013 this week, so if you're going, I hope you'll find me and say hello. My colleague Emily Gertz and I will be talking about The Science Writers' Handbook website during a BlitzTalk on Friday. See you there or on Twitter at #scio13. And, speaking of ScienceOnline, there's a new interview with me on on Bora Zivkovic's blog at Scientific American.
P.S. Huge thanks to the National Association of Science Writers for an Idea Grant that funded our book and the website!